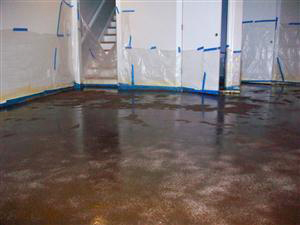 When you hear the words "epoxy flooring," your mind may conjure up images of the waiting room at your doctor's office or the hallowed halls of your high school. But what about epoxy flooring for your home?
No, really. Epoxy flooring has come a long way in recent years and is becoming a staple among designers who want to update concrete floors, replace carpeting, or find a viable and eco-friendly alternative to wood flooring. Epoxy flooring in Venice is no longer relegated to office buildings and car dealers' showrooms. Epoxy flooring can be installed right over your existing concrete and can update the look of any room in your Venice home, including:
Kitchens And Bathrooms

Florida Rooms

Garages

Living Rooms And Family Rooms

Entryway And Hallways
Let's take a look at a few of the many benefits that epoxy flooring can have for your Sun Coast residence.
Epoxy Flooring Is Durable
There's a reason that high-traffic areas come to mind when you're thinking about epoxy flooring. Epoxy flooring is utilized in a number of commercial applications like shopping malls, hotel lobbies, and automotive shops because of its durability. Epoxy flooring can withstand the footsteps of crowds, the weight of heavy equipment, and the test of time.
Epoxy Flooring Works Hard For The Money
When you're comparing options for flooring, epoxy flooring boasts huge savings over the cost of other hard flooring options like wood, tile, marble, or brick. Epoxy flooring can be installed on your existing concrete floors and requires a limited number of products for installation.
Stain Resistant Epoxy Flooring
Epoxy flooring resists staining, and it is impervious to greasy messes or chemical spills. The epoxy flooring process creates a thick, impenetrable barrier that no only prohibits staining, but makes cleanups quick and easy. The smooth surface is easy to sweep and mop. Epoxy flooring can also be easily maintained and, depending on the surface you choose, can last for years, or even decades, while maintaining its appeal.
Epoxy Flooring Is Nothing To Sneeze At
Because of its non-porous qualities, epoxy flooring prevents the accumulation of dust, dirt, and allergens that can be found in many other floor surfaces. You'll find that epoxy flooring can even help you improve the air quality in your home by reducing the places where allergens and dirt can collect and hide. Epoxy flooring is a perfect choice for those who suffer from allergies, pet owners, and folks who just enjoy pristine flooring in their Florida home.
Epoxy Flooring Looks Fabulous
With industry advances, epoxy flooring has taken on a whole new aspect of fine design. Your epoxy flooring specialist will show you samples that replicate the look of marble, granite, and other high-end design options for your Venice home. The color choices are endless, and shapes, patterns, and even metallic flakes can be added to create a custom look. The only trouble this may cause you is deciding which beautiful process you want for your home!
Epoxy flooring is a great option for those who live on the coast. Whether you're considering installing new garage flooring, want to update your Florida room, or are looking for a cost-effective designer look for your kitchen or bathroom, your epoxy flooring professional has a solution for you.
Throw open your doors and windows and welcome in your sandy-footed housemates - your durable, beautiful epoxy flooring can take it! Call Venice's leader in epoxy flooring today at 941-893-2442 and update the look of your Venice home's flooring!