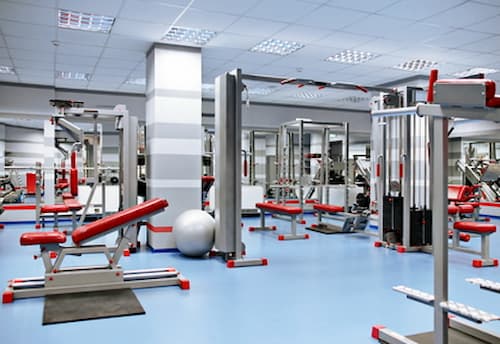 Epoxy flooring often brings to mind the halls of some drab institution or boring office, but there have been leaps and bounds in the style aspects of commercial epoxy flooring in recent years. No longer the "dingy white with black and grey flecks" that many of us remember from our childhood, epoxy flooring design now replicates the look of exotic stone, ancient wood, and even fine art with its blend of custom colors and professional techniques.
If the epoxy flooring in your Venice area business or commercial property is looking tired and outdated, if you've ripped up the tile and carpet and are looking for an easy and inexpensive update, or if you're building and wondering what to do with the vast expanse of concrete flooring you see, then calling in an epoxy flooring professional is the first step in giving your floors exceptional style at a great value.
When it comes to durability and reasonable cost, epoxy flooring is hard to beat. Epoxy flooring is the obvious choice for many of the commercial buildings and businesses in Venice and along the Sun Coast, including:
Stores and shopping malls

Medical and veterinary facilities

Schools, churches, and daycares

Offices, warehouses, and industrial facilities

Garages and vehicle showrooms

Kitchens and restaurants
Is Commercial Epoxy Flooring Right For Your Venice Business?
Epoxy flooring comes with a number of benefits for your Venice business or commercial property. Whether you own a high-traffic retail store, an elegant restaurant, or a busy garage, epoxy flooring can help you maintain a professional appeal under even the harshest conditions. Epoxy flooring offers:
Versatility of design

Resistance to water, chemicals, grease, and automotive fluids

Long-lasting finish

Easy cleanup and maintenance

Slip-resistant finishes
Your epoxy flooring professional will consult with you to evaluate your project, make recommendations, and deliver top-quality results to give your business a fresh appeal and a spectacular epoxy floor that will stand the test of time.
If you're looking for commercial epoxy flooring for your Venice business, call the pros at Epoxy Flooring Professional today at 941-893-2442.
Quick, Simple Application
When you can in a trained, skilled epoxy flooring technician, they'll begin your project with diamond grinding floor preparation to ensure an even surface that will bond with the 100% epoxy moisture barrier which is applied next. The vapor barrier is impervious to the intrusion of water or other organisms and will give your floor long-lasting durability.
Next, decorative epoxy flakes are spread by hand. Why? Hand-casting or the epoxy flakes not only ensures maximum slip-resistance, but it also guides the visual appeal of the placement of the flakes. Finally, a rock-hard, abrasion-resistant clear coat of urethane seals the deal and your beautiful epoxy flooring.
Leave It To The Pros
Whether you're in need of epoxy flooring for your luxury hotel or are in need of epoxy garage flooring for your greasy workshop, leaving your epoxy flooring project to the professionals will help to ensure professional results. Trust your project to a local professional who can offer a warranty on their work, and then all you have to do is to sit back and count the money you saved while enjoying the stunning beauty and exceptional durability of your epoxy floors for years to come.