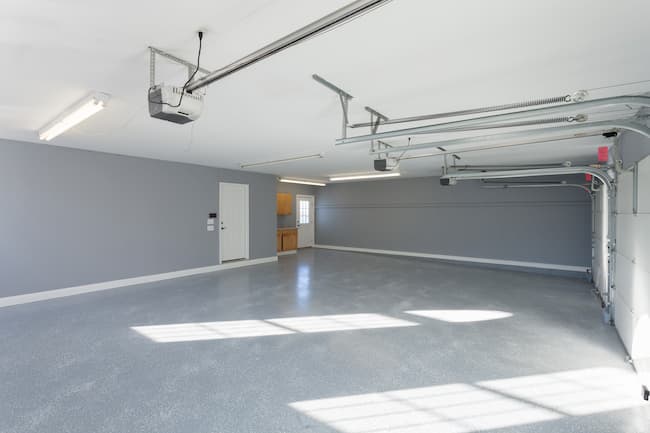 In Venice and all along the Sun Coast, we often consider our garage to be a catch-all - workshop, storage, hangout spot - but we don't always give our garages the design attention they deserve.
Have you ever looked at one of those cable TV car-flip shows and wished that your garage had spic-n-span floors and a clean, professional aesthetic?
For less money than you might imagine, you can update the look of your garage floors with epoxy garage flooring. Epoxy flooring has traditionally been used in schools, shopping malls, hotel lobbies, and the like because of its durability, cost-effectiveness, and easy maintenance. With updated style and color options, epoxy flooring is finding its way into residential applications as well, but it's really taken off as an alternative to standard concrete garage flooring.
Let's take a look at the epoxy flooring process, and the steps your epoxy flooring professional will take to give your garage flooring an updated look for a fraction of the cost of expensive flooring installations.
A Diamond In The Rough
Your epoxy flooring professional will first have you remove everything from your garage so that they have a clean, uncluttered area in which to work. Then they will examine your concrete surfaces and fill in any cracks or holes before commencing the diamond grinding application to provide a smooth, level surface that allows for easy adherence to the next step.
Set Clear Barriers
A thick vapor barrier of epoxy will then be applied by your epoxy garage flooring expert to your floor's surface. This prevents the intrusion of moisture that can lead to cracking, flaking, or the growth of unwanted organisms. The thick barrier will also hide any flaws and imperfections in your concrete surface. You can already see a difference in the look of your garage flooring, but it gets better.
Spreading Happiness
In order to ensure even coverage for slip-resistance and aesthetic appeal, epoxy flakes are then hand-broadcast by the professional epoxy garage flooring technician. Hand-broadcasting is a learned skill, and your epoxy flooring professional will know the tricks of the trade to give your floors a safe, slip-resistant surface. It really is as much fun as it sounds to spread the flakes around, especially when it's done with a happy vibe.
The Results Are Clear
Finally, a rock-hard clear coat of durable urethane seals the deal, and your garage flooring, giving you a show-room finish that is impervious to stains from grease, oil, or automotive fluids. Your floors will have increased durability that can hold up to the weight and wear of your vehicles, your equipment, and your tools. You'll have to throw open the door and invite the whole Venice neighborhood over to see how amazing your garage looks!
An epoxy garage flooring professional will have the tools and the know-how to install garage flooring in your Venice home with professional results.
Hire A Professional
There are a lot of DIY kits on the market that say they offer good results for even amateur applications. Of course, you may have some trouble locating a professional diamond grinder, the chemicals can be tricky if you're not familiar with their consistency, and as happy as hand-broadcasting sounds, it really is an art. If you want to ensure professional results, don't skimp. Hire a professional who has experience with residential and commercial epoxy flooring to give your Venice garage flooring a showroom finish that will last for years to come.