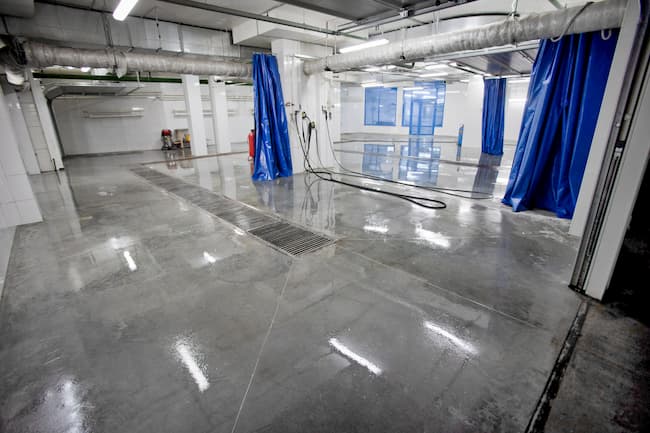 It's hard to beat epoxy floor coatings for their durability and longevity, making them ideal for industrial, commercial and residential applications. However, a perpetual problem with epoxies is that since they form an impermeable layer on the floor, any moisture vapor from the underlying concrete slab will be trapped. In Venice, the pressures from condensing water vapor can develop more pressure than the bond strength between the epoxy coating and the floor, delaminating the coating as a result.
Moisture Problems: Causes And Solutions
Concrete slabs that lack under-slab vapor barriers will nearly always have some moisture vapor emission from water below them. This is due to the fact that concrete is a mineral rich, porous material full of tiny channels and voids. These channels are perfect pathways for the migration of moisture and water vapors. The migrating moisture can cause problems with even the hardiest of substances – and epoxy is no exception.
Nearly all epoxy coatings lose bond strength, or will not adhere at all, when installed on damp or saturated concrete. Factors that lead to moisture accumulation in concrete and subsequent problems include inadequate moisture protection, high level of hydrostatic pressure or just a broken pipe. The good news is that it's still possible to install epoxy resin flooring systems to surfaces with high moisture vapor emission rates. At Epoxy Flooring Professional, we always test the concrete slab for moisture before applying epoxy. If moisture is present, we try to locate where it's coming from and provide a solution.
In most situations, we tackle moisture problems in concrete floors by using a primer moisture vapor barrier. It is a specially formulated seal coat applied beneath the epoxy coating. The moisture vapor barrier helps reduce the passage of fluids through concrete. It successfully alleviates the problems associated with moisture accumulation in a concrete slab, keeping moisture from reaching the epoxy flooring system. The number of primer barrier layers is based on the amount of moisture present in concrete. Usually, one layer is enough to fix the moisture problem and provide optimum adhesion for epoxy coatings.
If you live in Venice and you need help fixing moisture problems in your concrete flooring, just call Epoxy Flooring Professional. With over a decade of experience in installing epoxy floor coatings for businesses and families throughout Florida, we will be happy to lend our expertise to your next flooring project.