Natural Stone Epoxy Floors – A Beautiful And Durable Floor Coating Option
First impressions are created at the ground level. If your customers, family or guests are greeted by a cracked, unattractive floor, they will not have a good first impression about your house or facility. Covering the old, drab floor with elegant nature stone will help improve your facility's image, make your home more attractive and ensure the safety and comfort of everyone coming through your door. And this beautiful nature stone flooring is easier to achieve than you might think!
To solve your flooring problems, Kwekel Epoxy Floors offers natural stone epoxy coatings that can be applied to the existing floor in your basement, garage or commercial space. The beautiful stone floor coatings are made by combining a custom blend of fine aggregate and our specially formulated epoxy resin. The stone epoxy coatings are used both indoors and outdoors on almost any structurally sound surface that has been properly prepared.
Stone epoxy is applied over your existing flooring to create not just a gorgeous, glossy surface, but also one that's sturdy, durable and safe. No matter how damaged, uneven or cracked your floor is, it can be easily filled in and smoothed out by the stone series epoxy we provide. Natural stone epoxies offer great weather resistance and also have incredible insulation properties, allowing air to circulate throughout the product. Unlike concrete or tile, stone epoxy will not transfer ground temperatures to your feet. It does not discolor, mold or peel like paint or carpet and can be easily cleaned.
Most epoxy pebble floor and stone epoxy installations take about two days to complete and cause very little to no disruption to your surroundings. If you live in Florida, call Kwekel Epoxy Floors for a free estimate and let us help beautify your floors with stone epoxy flooring.
Discover the performance and beauty of stone series epoxy from Kwekel Epoxy Floors today!

What They Say About Us
Testimonials
You've got to see this to believe it! A dirty old cement garage floor with cracks TRANSFORMED into a slip-free, seamless custom-designed floor which is easy to keep clean and will WOW your friends and neighbors. It will also add value to your home. Ask for Josh or Calvin Kwekel and expect a most satisfactory, headache-free result. - Anthony
We are so impressed with our new epoxy floor! The application was expertly done and looks fabulous and worthy of the 62 Corvette that rests on it. Thank you! - Dawn
Our neighbor had used Epoxy Garage Floors for the garage floor in his home and in a spec house he constructed. He was pleased and recommended them to us. Our experience has been the same. We too are pleased with the experience and very satisfied with the results. In particular, we were impressed with the efficient, professional and personable services provided by both Calvin Kwekel and his son, Joshua. They were knowledgeable, informative, and equally important, always on time. Highly recommended. - Tom
Thank you so much…you exceeded all our expectations. Our garage floor looks perfect. You arrived when you said you would, worked diligently and cleaned up before you left. We have told everyone that asked what a great job you did. We look forward to working with you again in the future. - Maureen
No surprises, everything promised was delivered perfectly. on time, price, and most of all a top quality job on my garage floor. Great people/company to deal with, totally pleased. - Ambrose
Bradenton, FL
Thinking about using an epoxy floor coating for a commercial space or a residential garage in Bradenton? You are at the right place! We specialize in epoxy garage flooring, epoxy floor coating, epoxy floor painting, epoxy and concrete coatings. We are in the business of turning gray lifeless cracked concrete floors in Bradenton into showroom-class surfaces. Your new professional epoxy flooring will look and feel fantastic and, being tough and durable, will improve the lifespan of your concrete flooring. It's time you let your local professional epoxy flooring company treat your garage floor in Bradenton to gorgeous and functional epoxy floor coating. You'll be pleased with the result!
Venice, FL
Want your garage floor in Venice to have a beautiful, glossy finish just like you see in car showrooms and hotel lobbies? Our epoxy floor system for garage floors is just the solution for you. Old worn concrete garage floors, new construction or specialized designs, our team of epoxy flooring experts will use our industrial-grade, seamless epoxy floor coating system to meet your specific needs. We can install epoxy coatings in a variety of colors and designs. Choose from high-gloss finish, flake flooring, stone series flooring or metallic epoxy flooring to create the style and texture you want. Now you can have garage flooring on a par with car showrooms. Contact Kwekel Epoxy Floors about your new epoxy garage flooring in Venice today!
Sarasota, FL
When you are in search of epoxy flooring in Sarasota, we are your go-to epoxy contractor. We have over two decades of experience installing epoxy coatings for epoxy floors for both residential and commercial applications. Our workmanship and quality are second to none and you are sure to love the work we do on your concrete garage floor in Sarasota. Using our proprietary methods and professional-grade products we'll install seamless, durable epoxy flooring, giving your garage a whole new look and feel. No more dingy concrete; just delightful, radiant garage floore coatings to enjoy for many years to come. Get started on your fresh and beautiful epoxy garage floors in Sarasota today!
Port Charlotte, FL
If you are tired of your unsightly, cracked garage floors, get in touch with an experienced concrete floor contractor in Port Charlotte – for better solutions. We can install an epoxy paint floor coating to your stained concrete floors to give them a new lease of life. Durable and appealing, epoxy floor coatings improve the look of the places that get dirty and worn the quickest, such as basements and garages. Your plain garage floors will be coated and protected, able to withstand frequent use from cars, equipment and foot traffic. Is that the kind of flooring solution you want for your garage floors in Port Charlotte? We are here to help!
Tampa, FL
Beautifying your garage floor in Tampa has never been easier. All it takes is an epoxy floor coating professionally installed. We have the tools, team and experience to turn an old dinged or damaged concrete floor into a thing of beauty. With a concrete floor epoxy coating installed, your garage floor will be sealed and protected against dust, dirt and spills. Say hello to the new and improved garage flooring that is easy to enjoy and simple to clean and maintain. Get your all new epoxy flooring in Tampa from your local professional floor painting company today!
St Petersburg, FL
Welcome, we are your premier provider of high quality and cost-effective garage floor epoxy in St. Petersburg, FL. Whether you want to improve your existing concrete garage flooring, or you want to enhance aesthetics and usability of a new one, we offer epoxy flooring solutions that will transform your garage into an attractive, functional space. We can customize our epoxy garage floor coatings to meet your specific requirements. From high-gloss shine to granite-like finish, you can choose an epoxy floor coating in exactly the texture and design you want. Your new garage floor starts here. Get a free epoxy coating estimate for your garage floor in St. Petersburg today!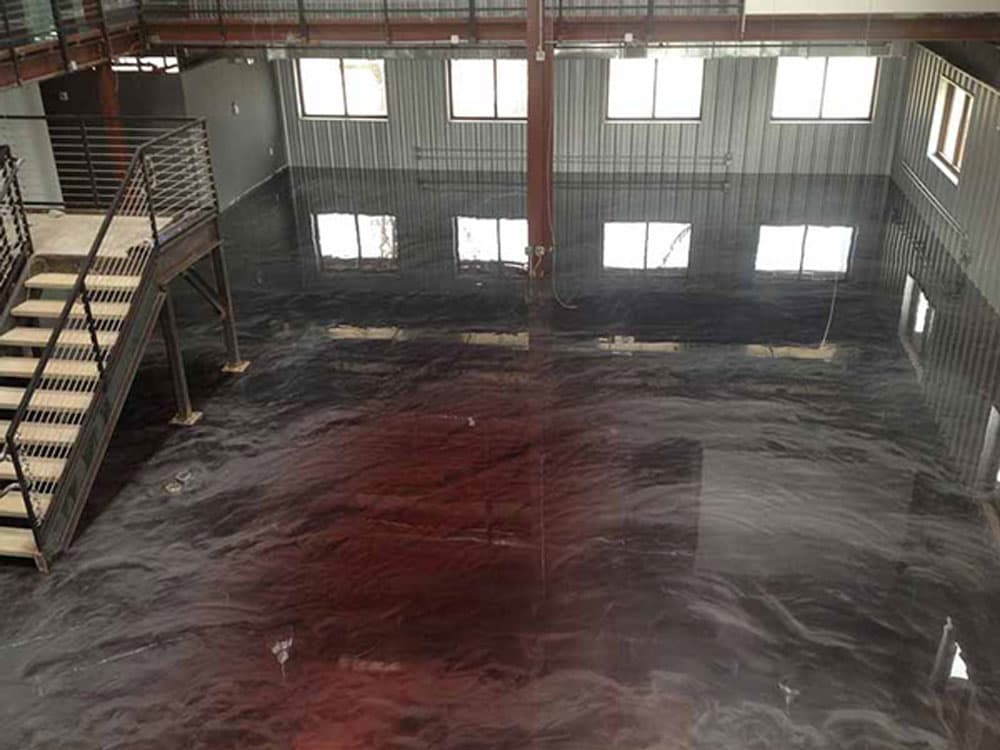 Family Owned - No Subcontractors
Your concrete flooring requires a high level of detail and proper preparation. We install all our floors, no subcontractors are used in this process. This ensures that the highest level of attention to detail is going into your garage flooring whether you are Orlando, Jacksonville or would like an epoxy floor in Tampa.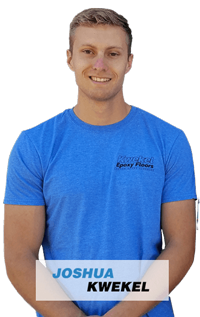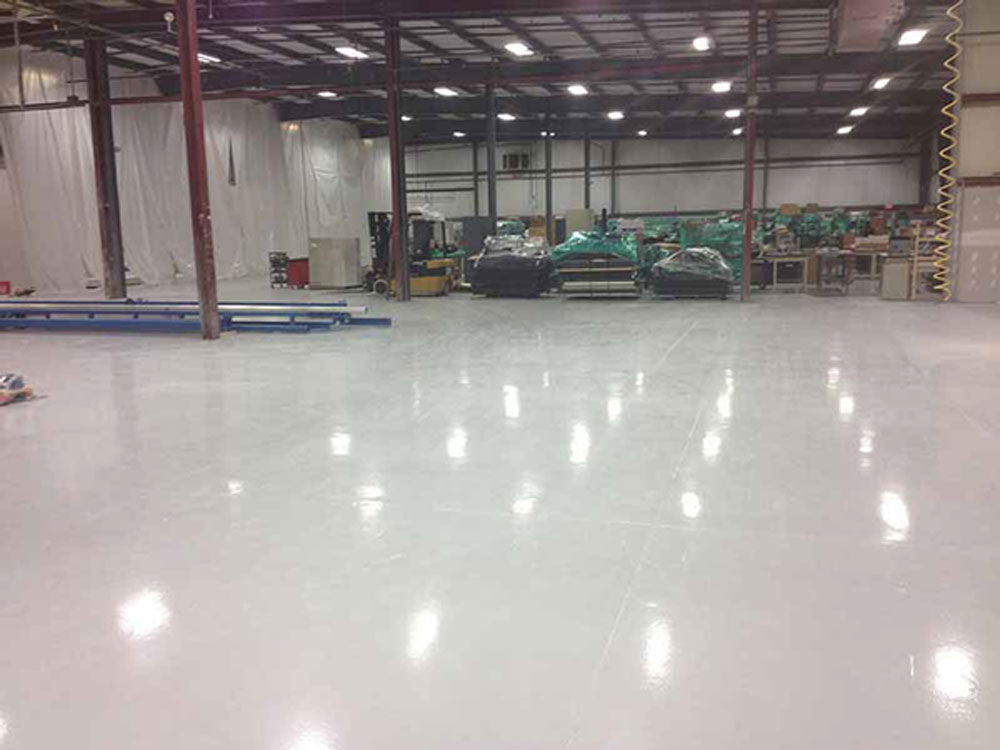 Premium Epoxy Flooring Process
The most important part of the garage flooring installation is the preparation. Not all epoxy contractors are the same and floor preparation is one way to separate the quality concrete coating contractor from the rest.